Culturescapes December 2017
A collection of culturescapes December 2017.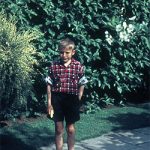 Jens Christian Top - born 1950 in Denmark - autor
Related Posts
The octagonal baptistery in Hjerting Church is designed by danish sculptor Robert Jacobsen.
Read more!

Different attitudes reading daily newspaper, Vestkysten 1973.

Read more!

A quarter scale - but complete copy of the Statue of Liberty in New York was donated to the city Read more!