Rococo altar
Saw this Rococo altar in Kliplev Church on my way to Sønderborg, Denmark.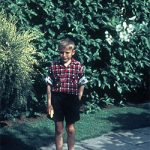 Jens Christian Top - born 1950 in Denmark - autor
Related Posts
The Berlin Wall behind Reichstag Building, West Berlin 1978. 

Read more!

The octagonal baptistery in Hjerting Church is designed by danish sculptor Robert Jacobsen.
Read more!

In my childhood in the nineteen fifties there was enclosed a picture, when you bought a plate of Read more!